Gold Beach Golf
Cedar Bend Golf Course
on the Southern Oregon Coast in Gold Beach, Oregon
PLAY TODAY!
About us
A well-planned challenging golf course
This 9-hole mentally engaging course features 3,000 yards of golf from the longest tees for a par of 36. Designed by John Zoller, the course opened in 1971. The short layout will reward good shots and provide a fun golf outing for everyone. Golfers must consider the combination of elevated tees and greens, along with the creek and little mounds adjacent to several greens.
Each green includes two flags – one for the front nine, one for the back nine. With the two flags on each green and some tee boxes that change between the two nines, Cedar Bend has the feel of an 18-hole golf course.
The entire course is a par-72 measuring from 5,231 yards to 6,288 yards long. In general, the course has plenty of challenge for the best golfers, but also plenty of forgiveness for people new to the game. Water comes into play on almost every hole. The beautiful Cedar Fork Creek which golfers must cross on several of the holes, meanders through the course. Its clear waters and smooth stone base make it look inviting on hot summer days.
Learn more
About the Course
Large Greens
Pet Friendly!
Designed by John Zoller
Fir Trees Line the Fairways
Water on almost every hole
Each Green has two flags – front & back 9
9 Holes
3,000 Yards
Par-36
18 Holes
5231 – 6288 Yards
Par-72
Location Features
What we offer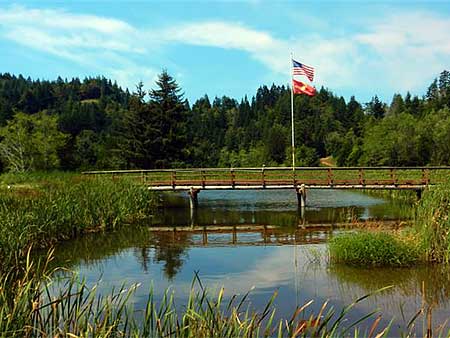 A Beautiful Setting
Enjoyed by golfers of all levels of ability. The beautiful Cedar Fork Creek meanders through the course.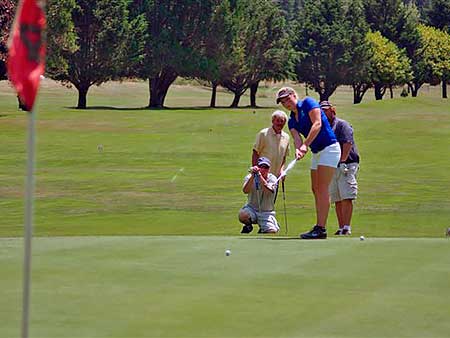 Wildlife Opportunities
Enjoy Black Tailed Deer, Roosevelt Elk, Red Tailed Hawks, Band Tailed Pigeons, and other species of wildlife.
10 miles North of Gold Beach
Travel spectacular Highway 101. Two miles inland find the course nestled on the floor of beautiful Cedar Valley.
Clubhouse Venue
The clubhouse is available to groups or large parties for your special event
More Details